I have been asked a number of times about the Blogdrive photo gallery. The photo gallery is a subscriber feature available on plans 2, 3 and 4. (
see chart
) One demonstration gallery with multiple sub-galleries can be seen on
December
.
The Occasional
has some additional artwork by Angelena. I also use the photo gallery on
Thunderstorms in the Imajica
.
Blogdrive describes their photo gallery system this way:
A gallery like no other.

Easy to use interface for uploading images. Thumbnail creation on the fly. Skin selection with CSS editing. Organized display with a versatile paging system. Multiple sub-galleries with optional password protection. Fully editable after creation.
To create your own photo gallery, first log into your blog management page and select your subscription blog from your list of current blogs. From your blog's admin page, select Layout & Design under the Settings tab on the left. On the Layout & Design page, select Edit Galleries. To go directly to your blog's Edit Galleries page or for your bookmarks, you can also use this web address:
http://www.blogdrive.com/manage/blog_galleries?bid=######
(replacing the #s for your blog id number)

Your Edit Galleries page has a number of commands:
Select Gallery Home page Skin
Choose one of six available skins
Edit Home page Gallery CSS
Unless you know CSS well, leave this alone.
Edit Home page Gallery Properties
Edit the name and description. Set your gallery to public or private/password-protected.
Create New Gallery
Enter name, description and privacy settings.
Once you create a new gallery, it will make commands available to you for that sub-gallery that are similar to your main gallery commands, or are self-explanatory. It will look like my
Bugs n Cheese Comix
sub-gallery, below, except it will not display a thumbnail image until you upload a photo to your sub-gallery.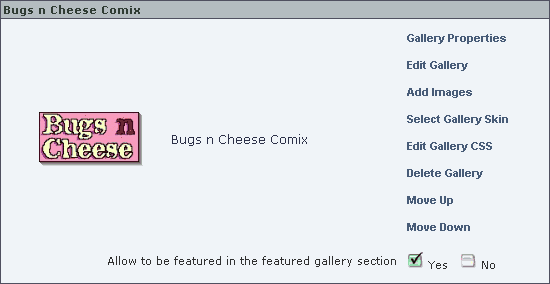 To begin populating your own gallery with photos, use the Add Images command. A pop-up window will be displayed into which you can enter the image's title and description. Use the browse button to select the image on your PC you wish to have in your gallery, and then click upload. Continue adding images, and then click cancel when you are done. Thumbnails are generated automagically.

After hitting cancel, you will then be re-directed to the Edit Gallery page for this sub-gallery. You can edit the properties (name and description) of individual images, delete images from the sub-gallery, and control the order of your images within the sub-gallery.
The first image in your sub-gallery will create the representative thumbnail for that sub-gallery. Likewise, if you have more than one sub-gallery, the first thumbnail in your first sub-gallery will be the thumbnail image displayed on your blog as a link for visitors to view your galleries. Now that you know how to use your Blogdrive photo gallery system, get out there in the world with your digital camera and have some fun because you can share your photos with everyone.
If this tutorial was helpful to you, or you have a cool gallery you wish to share, leave a comment. If you need more assistance, contact me.