One of the ways to make your blog more available to a wider audience of readers is to utiltize the syndication features available on all blogdrive blogs, even the free ones. While all subscription levels offer extended feeds, a free blog still automatically creates a feed with previews of your last ten entries and links back to your blogdrive blog. Now, all you need to do is use the feed provided and tell your readers how they can use it.
People visiting your blogdrive blog can use its automagically generated index.xml or atom.xml file for their own news readers and feed aggregators. For easiest recognition, I have added some of the more popular services that can use my Dark Skies feed in that little icon cluster on the left side section.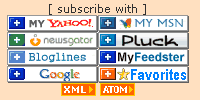 Except for the [+ favorites] icon and link, which simply adds Dark Skies to a visitor's browser bookmarks, the rest of the icons are linked to my blog's feed. If you wish to have all of these icons, the HTML code to add them to your side section, and some simple instructions -- I put together a little compressed ZIP file that you can download: jfz_addicons.zip
I personally use the Yahoo and Google portal pages to stay updated with a number of blog feeds on blogdrive. If you only wish to use one or two of these icons on your blog, you can copy and save the icon, and copy and edit the shortcut associated with it.
There are a number of free third-party blog tools and services you should use. Blogdrive has integrated PhotoBucket into its entry editor. That is one free account you should activate. Another very useful free service is FeedBurner.
FeedBurner is useful not only as a one-stop shop for your blog's feed, but also for the added free services, like
automatically pinging Technorati
for you and tracking the number of your subscribers.
I like FeedBurner because they get (understand) it. They can help you optimize your feed and publicize it. The future of syndication and feeds is being developed everyday. The icon, above, will soon be the internationally recognized icon for your blog's feed.
Until everyone understands this, I will display my icon cluster during the transition phase. Sometimes, we all get so excited about tech stuff, that we forget that everyone doesn't share our enthusiasm for changes in the geekdom.
I originally published this article on Dark Skies, but I have added some extra links and graphics information for you on Web-Litter. I used the icon pack from Feed Icons and made a purple version of it, above. I also made a smaller animated version of it, displayed on the left side panel. Feel free to rip them for your own use.
Since I wrote the original article, I registered Web Litter with Feed Burner so that I could also test a variant of the use of the Blogdrive feed. On Dark Skies, I have all the popular little chicklets that people recognize, each icon with their own link. Here on Web Litter however, I am only going to use the Feed Burner Smart Feed to see how it can count the subscribers using the various feed readers and news aggregators.
You can help test this. Subscribe to my funky fresh feed.